Ajax introduceert nieuwe producten
Ajax Systems heeft drie nieuwe producten aangekondigd. Het al uitgebreide assortiment van het bedrijf wordt aangevuld met twee nieuwe bewegingsmelders en een nieuw keypad die compatibel zijn met de Hub modellen met versie OS Malevich 2.11 of hoger. Het alarmsysteem krijgt hiermee nog meer mogelijkheden.
Ajax Dual Curtain Outdoor
Het eerste product dat Ajax Systems presenteerde is een nieuwe sensor voor buiten. De DualCurtain Outdoor is speciaal ontwikkeld voor op het terras, in de tuin of op de oprit. Het apparaat beschikt over twee detectoren die tot 15 meter naar elke zijde bewegingen kunnen detecteren.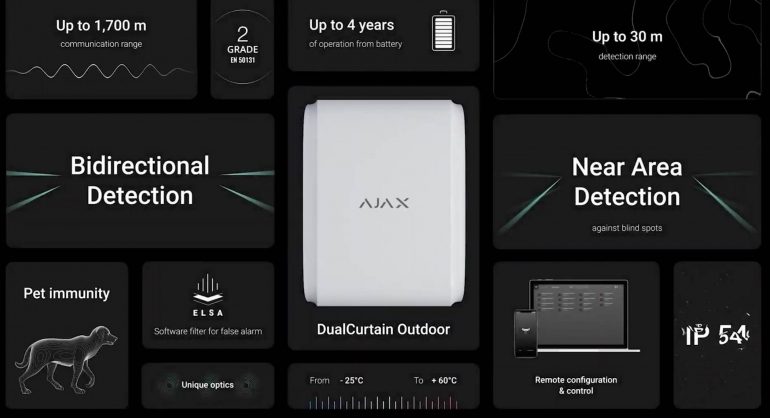 De detectoren splitsen de detectie in twee delen waardoor het alarm alleen afgaat wanneer er iemand door de twee delen van het signaal loopt. Een kat of hand die alleen door het onderste deel loopt wordt hierdoor genegeerd. Ook wanneer er verf op de detector wordt gespoten of de detector wordt geblokkeerd, wordt er direct een melding afgegeven. De DualCurtain Outdoor is Grade 2-gecertificeerd en beschikt over een batterijduur van ongeveer 4 jaar. De sensor is vanaf juni dit jaar beschikbaar.
Ajax KeyPad Plus met RFID
Ajax Systems brengt ook een nieuw Keypad op de markt, uitgerust met een RFID-lezer. Hierdoor kun je het alarm uitschakelen middels een RFID-tag of -pas. Het bedrijf brengt hiervoor zelf tags en passen op de markt. Een pas of tag heeft een geheugen voor maximaal 13 hubs, waardoor het ook een handige oplossing is voor kantoren.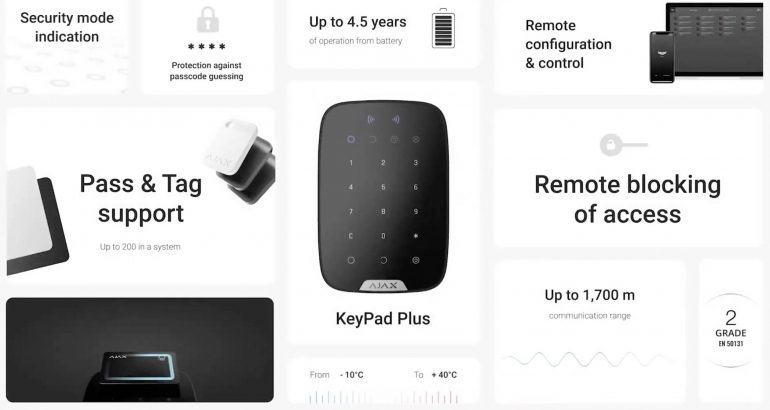 Een andere nieuwe functie van de KeyPad Plus is dat niet alle gebruikers meer een eigen Ajax-account nodig hebben. Ze kunnen simpelweg met een eigen pas of tag het alarm in- of uitschakelen. Het beheer van alle tags en passen vindt plaats in de Ajax-app.
Ajax Systems geeft aan dat de batterijduur van de KeyPad Plus ongeveer 3,5 jaar bedraagt wanneer je elke dag een pas of tag gebruikt. Zet je deze functie uit dan loopt de batterijduur op tot 4,5 jaar. Ook dit apparaat heeft een Grade 2-certificering meegekregen en is te koop vanaf juni.
Ajax MotionCam Outdoor
Ajax Systems had al een MotionCam-sensor voor binnen. Dit apparaat is een bewegingssensor met ingebouwde fotocamera waardoor je op je smartphone direct een bevestiging van het alarm kunt zien. Valse alarmen worden hiermee uitgesloten.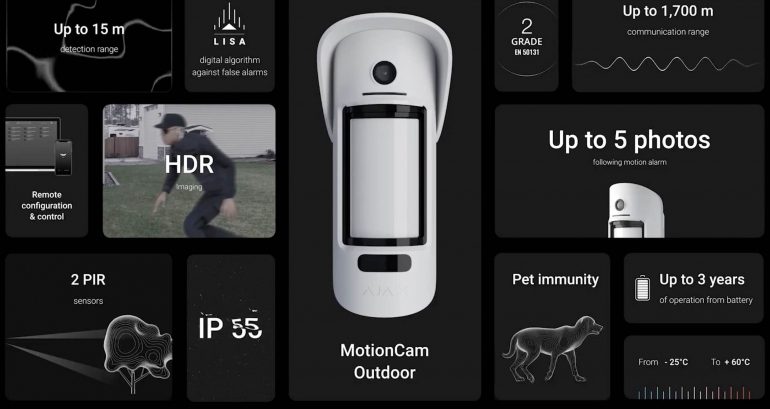 De Ajax MotionCam Outdoor heeft een bereik van 90 graden en kan tot 175 vierkante meter bewaken. Het apparaat is geschikt voor zowel kleine tuinen als grote bedrijventerreinen. Ook deze sensor deels de detectie op in twee delen, boven en onder, waardoor een lopende hond of kat niet geregistreerd wordt. Pas wanneer iemand door beide detectiegebieden loopt gaat het alarm af en wordt er direct een foto naar de app (of alarmcentrale) gestuurd.
De MotionCam Outdoor beschikt over een camera met een kijkhoek van 102-graden en een infraroodleds waarmee ook in het donker duidelijke foto's gemaakt kunnen worden. Daarnaast is HDR aanwezig waarmee er twee foto's gemaakt worden die gecombineerd worden tot één foto die nooit te donker of te licht is. Eenmaal gemaakt wordt de foto binnen enkele seconden naar de gebruiker gestuurd.
Tot slot is ook de MotionCam Outdoor Grade 2-gecertificeerd en krijg je direct een melding zodra de sensor gemaskeerd wordt. Het apparaat heeft een batterijduur van ongeveer 3 jaar en kan tegen alle weersomstandigheden. De MotionCam Outdoor is te koop vanaf juli 2021.